Shift your Sh*t... in a Month!
When life isn't working we need to do something different...
Are you sick and tired of feeling...
If you are ready.   Here is the payment link...
Because we all know that thinking about it will NOT change it.  Acting on it... will.
Sorry, sign up is closed for this session

We start on Monday April 27th 2020

Why do you need to change this NOW?
You've just been paid… It's the same as last month…
It is not enough, it never is…
Your child has got a cold…
Your car needs a new tyre…
The dog is off her food…
You didn't get the new job you went for…
Brexit...
Trump...
and you stand in the kitchen, sigh and say…
"This is a pile of shit!"
Now that pile of shit, is, your life. And it seems like it will always be your life and it is unchangeable.
I am going to tell you right now that, that pile of shit, that is your life, can be shifted.
It can be shifted to something that more resembles who you are, that is positive, inspiring and a truer version of you.
But. You have to be prepared to get your hands dirty.
Luckily I'll be there next to you, getting my hands dirty too. Because what I have created is not a 'here's the video that wins the prize life for you...'
This is about you. And what I know is that we need to be in it together.
So, that's what Shift the Shit in a MONTH is all about.
Shift your Sh*t... is about...
Every day I talk with people, just like you, and we find 'solutions' to the 'problems' they have.  They are all different of course, but there are patterns and puzzles.
We all want to ooze confidence, to know who we are and what we really, really want.  It is the getting there that frustrates us.  Because without some kind of clarity on what that actually is and what it is 'not', can be confusing.
So we need to start with clarity; to build a clear picture of what that confident person looks like... to you - who is she?  Once we have that vision, we can then strengthen our connection to who we are, when it is after all just us - that little girl inside of us...
These are the magic two that generate the confident you, to go out there and be who you bloody well want to be! or as I like to say 'unfuckwithable' - because once you LOVE, LOVE, LOVE who you are - the outside world wields very little power over the empowered you.
STSIAM is designed to take you on a journey through a weekly trainings, broken down into tangible outcomes.  Delivered LIVE by me, with access to me and a supportive group.  So you can literally ask anything, at any time, during this intensive 31 days.  And you will get an answer.
Why 'In A Month'?  Why wait.  I used to do this over ten weeks and what I learnt is that when you are ready for change, you want to start now.  And get it done.  These trainings will start you off in a new direction of how you will live your life.  It is all about creating the life you have been searching for!  Some times for years...  For when you start to love your SELF you create a life that shines with love.  Simple but true.
So let's see what you get and how it all works...
Unless you have heard enough?
Then these links are
:
Sorry, sign up is closed for this session

Here is what you will experience...
There is so much that changes in just 31 days.
Every week we add a little more to make your life full of what you want and some 'power tools' to use daily, so you keep it that way.
There will be no more worrying or overthinking about your 'if's and 'if only's.
This programme is to clear out the thoughts that you are not sure about what to do.  You will be sure and you will be acting on it.

I am a Transformational Coach. As a person I am warm, funny, insightful and direct.
As a coach I use a curiosity based learning method to guide clients to their own magnificence.  I have been doing this for over eighteen years.  Prior to this I was a qualified project and change manager.  I swapped projects for people.
My pain/passion is potential.  Your potential.  I get immensely frustrated when I see it wasted.  I am a puzzler.  A solution-seeker with a crazy ability to get curious about who you are underneath it all.  It is my thing.  I live and breathe it!
My clients' successes are what I love.  The thrill of seeing someone becoming stronger in who they are is what my life is about.  Clients have created ... new lives in different countries, new jobs they love, relationships they never thought they could enjoy, babies, houses, boundaries, self love...  the list is long and thoroughly lovely.  From the smallest win to the largest - they are all awesome and I am eternally grateful that they choose to work with me.
I live by the sea with family; my beautiful boys, two 'crazy-knickers' dogs and our beloved ginger tom.  Who rules us all!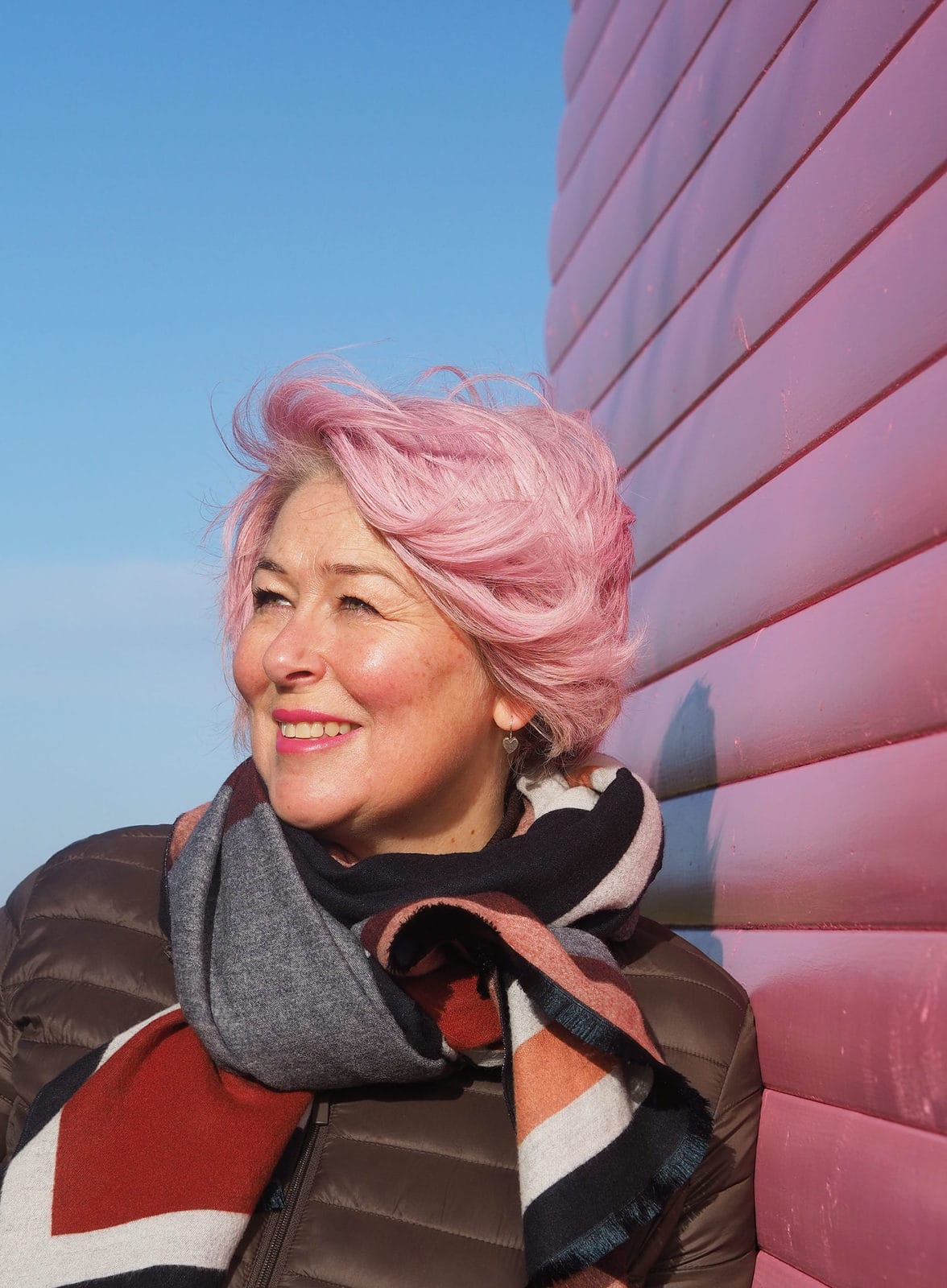 What previous clients say...
Emily said…
I feel inspired and energised with a renewed sense of focus, clarity and even the beginnings of believing that I am capable of achieving things in my life again. I didn't want the course to end!
Sharon said…
I'm discovering new things about myself as well as rediscovering some long forgotten things, and I don't feel the same despondency and distress as I did before starting the programme. Instead I am feeling a sense of inner peace...
Anne-Marie said…
Taking what may seem like baby steps but in reality, caused my world to shudder a little – in a really good way. I didn't just get to declutter – I got to understand several of the deep & hidden reasons why I gather clutter in the first place and find it so difficult to get rid of it. Which is life changing!
Clare said…
It was the smack in the face I needed to bring me back into a state of consciousness about my life, to take control and navigate my way back to MY path… You were the person that was the difference that made the difference in my life.
Amanda said…
Kerry is brilliant at getting you back on track and looking at what is important to you. She has an amazing capacity to get past all the BS!
What will change if you do not do this?
Nothing much.  You might even get a little boost for thinking over what you have just read.  Yes I can do this, you might think.  I don't need to spend money on this, surely?  Well... if you are here, on this page, reading this far - I know life is hurting enough, and this is your time!
If this if your first time investing in you.  I know how it feels.  It isn't easy to say yes to you, and make that decision to put your well-being first.  I feel that.  When I first invested in myself, back in 2002, it was £650, for a weekend class.  It scared the bejebees out of me to make that commitment to me!  But, as I kept 'thinking it over' I knew.  I knew it was something I needed to do, to course-correct my life.  So, if this is that time for you, I understand. Please find the courage to put you first.
If you think you don't have the time...  I get that.  But funnily enough this is in LOCK DOWN 2020.
Neverthess, to help I have set up a few things that may help you with deciding:
1. The trainings up for post work/bubba/other stuff bed times (they are recorded and available the next day).
2. The time required per week is only two hours for training and Q & A + daily self care journalling time (which is an investment now and your future).
3.The actions you want are sometimes just mindset shifts (zero time...) and the actions from those shifts (++ time but ++ ROI).
So can you afford not to?
I look forward to shifting your sh*t!
We are going to have a blast!
Sorry, sign up is closed for this session