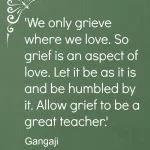 Hello.
I want to be a little braver in telling you how I am coping (and not) with a new phase in my life. Why? Because sharing allows me to feel that connection with you and that we are all human. Even coaches are human. Yes I inspire, motivate and enthuse people for a living, but I am human. And I hurt.
I lost my mum four months ago and for the first three months I just kept going, looking back now I think I was being brave, but that is my default and also she was so brave, I felt I had to do the same to honour her. She was an amazing mum; I was very lucky to be blessed with having her, and a force to be reckoned with. I realise that even more so, now that she is no longer physically here.
This last month has been so the hardest yet. Why? I think the first three months I figured this is what it is all about, grief is just not seeing her… but then all of a sudden I felt the need to talk to her, to share one of my boys birthdays with her and our family. But I couldn't do it. There was no one to call and just breathe down the phone to. She would know, who it was and how I was feeling just from my breathe! And now… no one.
No one there any more who just knows…
So I have taken to talking to her anyway, a conversation in my head and she answers – I do not know if this is a spirit answering or just me doing both sides of the conversation but I am just going with it. It feels good and that is all that matters.
Some days, actually the hardest thing at the moment is (because it does change) is the suddenness of how it can pop up from nowhere like a 'peekaboo' or a 'jackinabox' and be gone again. So to try and explain it is exhausting as your feeling was there and now gone. So I just say when people ask 'how are you?' in earnest… 'Up and down'… and I just go with how I feel that day. A good day I will schedule my posts. On a bad day I will scour the net for post ideas that make me feel good to use for another day.
I am having many lessons about life and love through this and how do I get through it is to keep up my mantra
'Believe and Breathe'.
So whatever you are going through, just believe you can get through this and breathe – you really do need to breathe. Take a walk and some breaths changes everything…
Love to you,