Hello,
I was overwhelmed, but I just couldn't stop clicking on the button to open my email. Oh no! So many to click delete today… and that happened every day! Every day! Then one weekend I left my phone at home – apart from initially feeling bereft, I found it quite liberating. Especially as my partner became my PA for the weekend – he was thrilled!
His frustration hi-lighted what I had been unconsciously tolerating for some time. And I was adding to this on a weekly basis. My inbox was full of 'stuff to read', 'stuff that I liked', 'stuff that I 'should' share with my clients'… stuff! I had created this 'thing' that was taking over my life. It took me at least half an hour to scan through the daily emails from each of my different roles; me, mum, partner, business. The list was ridiculous.
How much of your 'Inbox' delights you?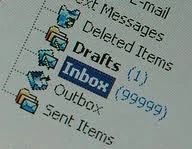 It had to change.
Fast.
How much of your time is wasted on your 'inbox' each day? Times that by seven – lets agree that we all do check things at the weekend. So, seven times thirty minutes = three and a half hours!
And that's the start of it!
So what can we do? Change it. Ok how? In the past I have blogged about not opening your email before you set up your day – please do that still!
But this is for sorting out the 'Stuff'.
1. Open up a new 'free' account just for your newsletters. Keep this account out of your 'Outlook' or 'Entourage' box. Only access this through the main site i.e. Gmail, Yahoo, Hotmail etc. Your main inbox is now only for correspondence that you need to read now; it has been sent to you personally, for your personal attention from a real human being – not a auto-responder.
2. Go through your 'old' inbox and check at the bottom of each 'newsletter' that you receive and click on the link where you can either unsubscribe OR change your settings. Decide to either be brave and delete or change to your new 'Newsletter' account. Depending on how many your have, keep this to ten minutes a day and you will get through it. Put on your favourite 'Get in mood' tracks, put on your headphones and delete with delight!
By doing these two steps you will be in control of when you have time to read your newsletters. They will no longer control your thoughts – only when you go to that account, like opening your favourite magazine – when you have time.
Phew! Take back those three and half hours (at least) and enjoy your day!