As I have mentioned earlier this week I have agreed to 'blog better' with a group of inspirational bloggers – some are very experienced and others just starting out facilitated by two great coaches Marion Ryan and Judith Morgan.
Week One
For all of us it has been a challenging week just keeping abreast of the blogs and emails, let alone the day job. Before I agreed to sign up to this (not really knowing the full extent of how much time it would take) I would have sworn to be 'busy' 'not enough time to do everything'. My three days of being 'coach' were full and I would not have taken on any more work. Then this happened. It is full on.
Say YES!
As part of my new year policy to start saying yes to things that I would normally look and think 'oooh that would be good' and not 'click here' on – I replied – quickly, before I could start to 'think'.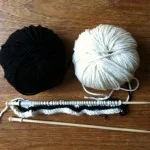 Knitting
Then I agreed to go to a monthly 'Knitorama'. Hmmm… I agreed to this on a whim when a friend asked me (midst creative fumblings with my little men at a playgroup) to try knitting, when I mentioned that I wanted to 'do' something creative this year. So this morning I started my cushion cover. After the initial argghhh I can't do it, going on in my head I learnt to relax and chill out (over a ball of wall – who would have guessed!) – with the words of my teacher saying relax – there is no point in doing it if its not fun… it also reminded me of my nan, teaching me by paraffin lamp when we stayed with her in her caravan when little. I honestly felt her watching me with a smile.
To busy to think!
So this has given me a refresh in my way of thinking. My mind is occupied (blogs can do that to you!) and I am being creative (knit one… snap one) and as a result I am being more productive with all the other 'stuff'. No time really does make you efficient!
What have you said no to this year? Something you could have said yes to and it may just change your life. Small things can do that to…