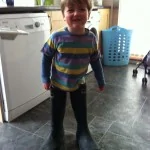 Momentum. What does that mean to you? What would it look like? How would it feel? Taste? Sound? (Oh as we are on a senses theme) smell? I ask this as it would be very different for all of us – yet we search for the 'one size fits all' remedy. Momentum to me? Means being on track with life and finding easy ways forward. Finding solutions and synchronous events happening; you are attracting what you want in your life with ease.
Let me ask another question? (Yes I know with a question…) what would success look like? hmmm… it's a tough one eh. But if I added What Would Success Look like to YOU? it gets you in line with the answer I am searching for. I want something for you, I don't care what anyone else wants. Just you.
To get your 'momentum' kick started, I want to initially make sure we are on 'your' track – that we are filling your boots? Are we chasing your dreams or someone else's?
How will I know if the 'boots' are mine?
This is a great question. I am often told as a coach what my clients want, only to unearth a very different desire. If what you really want has an authentic resonance with you; we will find momentum very easily. If, however, it is done through rote, and not from a curious space, it will leave you without passion – only resentment that you are not getting what you want, but forcing yourself forward. This takes a lot of energy and not a lot of fun… Could you be tired and not having much fun?
My goal for you today is to stop your world for a bit. Five minutes will do, and check to see 'Is this what I want? Or is this something I inherited, something I saw made others happy and therefore I wanted it for them.
I am asking you. Look now and see… are they your boots you are filling?
I will be back later this week to talk more on 'Easy Ways to Get in momentum!'