Hello,
Lesson 1 – Label yourself slow and you will become so.
I had got into a pattern when walking to the start chatting to my fellow runners on my Parkrun on saturday (5k run) I make fun of how slow I am and that I am most likely to be last. Good creation there! My partner checked this with me, had I noticed? He also pointed out that one of my fellow triathletes in training was focused and was single sighted on her run. She was gonna beat her personal best no matter what. What was my vision?
I decided that although I do need to be fitter (it is coming!) and I am getting faster each time (yay!) my label was not serving me. So I am now conscious of noticing when I do this. The first step of change is to notice – second to do it differently – so I am already there.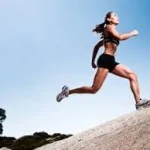 Today the fabulous Sarah and I did hill training – the idea being that you give your body a memory of how you want it to do it – so when you are racing you will remember – a bit like role playing. To my delight I actually enjoyed it and I got faster, as she said I would. I actually bounce up hills now! Now that is something I didnt think I would be saying!
What 'label' do you have that is not serving you?
Post below and tell me about it please.